Summer Learn To Row July 2023
The Bermuda Rowing Association welcomes beginners or rowers who would like a refresher course to enjoy summer on the water and our great sport of rowing in our Learn To Row program under the direction of a certified coach. Below is an example of the usual Summer schedule as our new 2023 schedule is not available yet.
JUNIORS: Summer 2023 dates not available Yet
Ages 12-17. We have two 2-week sessions from 9:00 to noon Monday through Friday:
Session 1 - July 4 -15 and
Session 2 - July 18 – August 2.
Pick up from the Royal Hamilton Amateur Dinghy Club The cost is $300 per session. You may choose both sessions.
ADULTS: Summer 2023 dates not available Yet
Four-week session 6:00 am to 8:15 am M/W/F or T/TH/S. Pick up from the Royal Hamilton Amateur Dinghy Club. The cost is $395.
ADULT ROWERS: 
Classes will be three times per week (early weekdays, 6-8:15 am, Saturday - 9 am until 11:30 am over four weeks and includes all equipment. The fee is $395, which includes membership to April 30, 2023.
All equipment is supplied and you must be able to swim 100m wearing a rowing kit and be reasonably fit.
Spaces on the courses are limited, and payment secures your "crew" seat. You can download the application form here and email it to bermudarowingassociation@gmail.com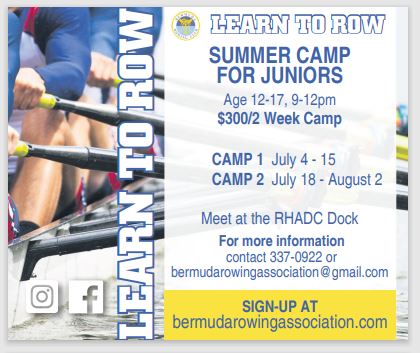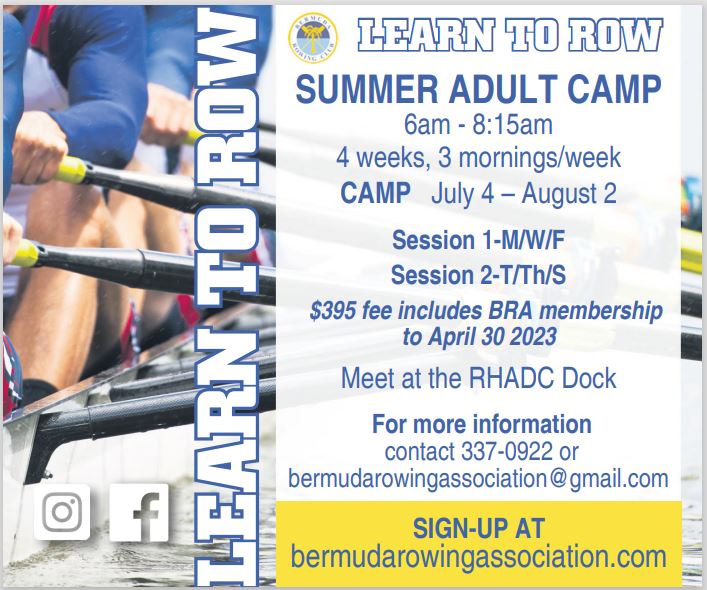 Sculling at the club consists of a combination of coached practices and independent sculling.
Beginning scullers who have completed the Learn to Row course or another rowing club

Experienced scullers who wish to work on technique
Independent sculling is for:
Experienced scullers who can demonstrate basic sculling ability and

have passed the Solo Test.